Model AddOn 2.50 €
As of now, the F3K Glider AddOn is included in the BasicsP Addon package.
This is an AddOn, you need to get the "Basics Model" for the setup menu & "BasicsP AddOn" for the flaperon support first!
This is a pre-configured  "BasicsDLG" model with all settings for DLG use, to be used as alternative for the BasicsP "Eglide" model. After unzipping the received files to the SDCard of your Taranis, just restore the "BasicsDLG" model, and long press PAGE to enter the App manager and review and adjust your settings:
4 channel receiver servo order (FlapL,FlapR,Elevator,Rudder)
preset on SF for launch and zoom on release
flaps on throttle stick, 10% dead band
autoreturn to normal flight modes when pushing elevator forward while flap stick to zero.
3 standard flight modes (cruise, speed and thermal), extendable to 8 and Trim.
camber settings per flight mode, including elevator trim
camber fine tune by slider, increase to double, in speed and thermal flight modes
timer on release of launch switch
trim mode for easy servo adjustments: pull on SH will reverse flaperons and eliminate offset, facilitating servo neutral, offset and travel trim settings.
Have fun and 
Just Fly!
Model AddOn 5.00 €
This is an AddOn, you need to get the "Basics Model" model first!
As from now, the F3K model AddOn is included in this package as well. See description here.
We have added a fully preset "BasicsEglide" model, using the flaperon functions. You can install it with the "model restore" function on your Taranis.
Since it has some additional features, it will install the BasicsP addon. That will add some extra screens to your "Basics" Model, also upgrading all your existing models you created using the "Basics" model as template.
Servo ordering, camber system, geometry for trims in real mm., all physical switch assignments in one page, timers, battery alarms, and more. 
Attention: the Basics model came with all servos limited to 80% as a saftey measure for newbies. This prevents people to overload their servos by accident. On this model all servo limits are set to 100%. 
Also, it allows to activate a two servo aileron setup, using the ailerons as flaps. This is also known as Flaperons. By leaving the flap offset at zero, you can use it on any two servo aileron plane, by connecting the second servo to the FlaperonL servo output, normally on channel 6. It is already fully configured for the "BasicsEglider" model.
Example screen showing some of the extra pages:

Just unzip the files that where delivered and copy them to your SDCard. Since it is an AddOn, no further actions are neccesary after you restored the "BasicsEglide" model in your Taranis. Just select your "Basics" entry in the AppMan, accessed by long press PAGE, and you can review and adjust the basic settings.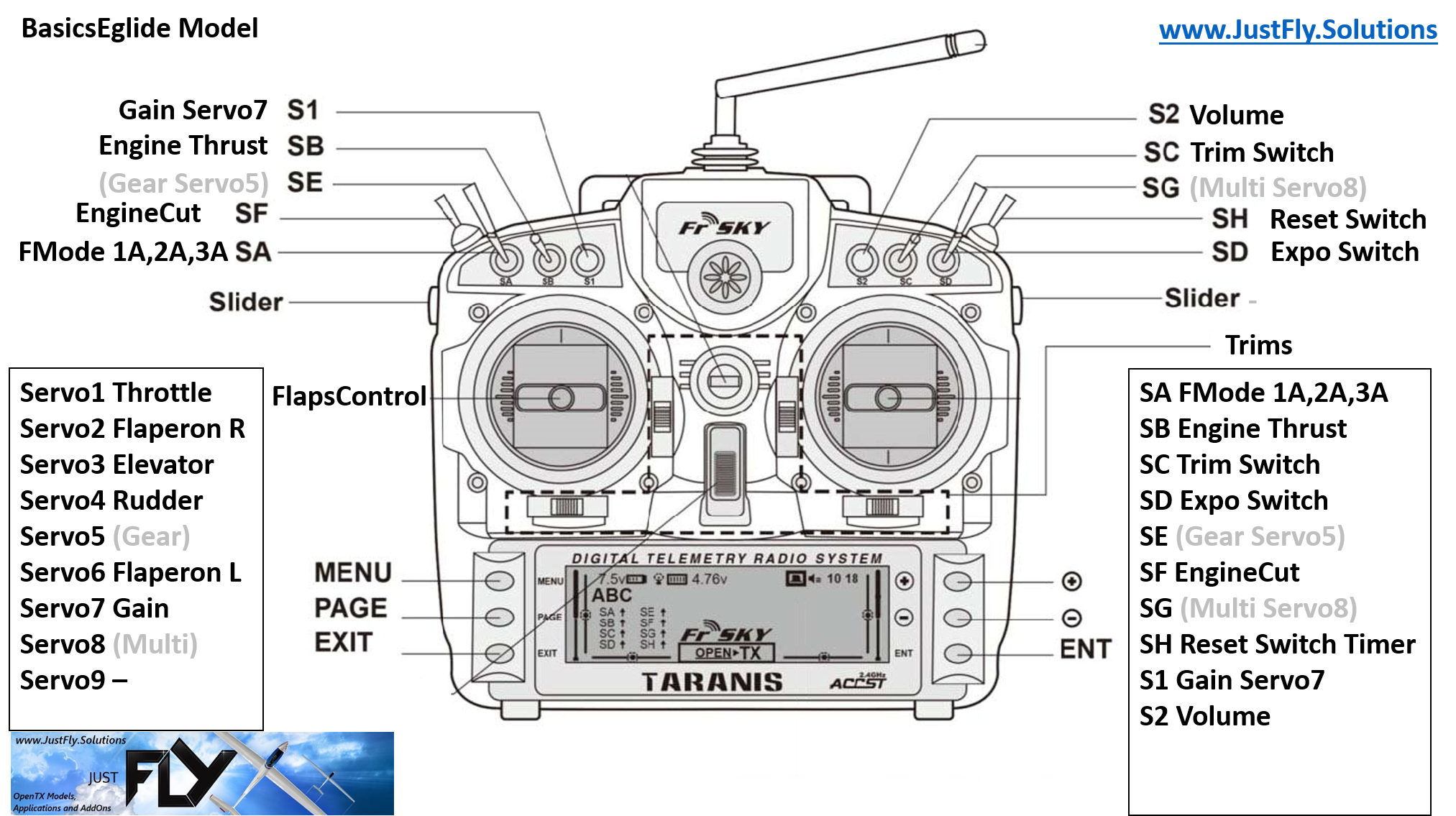 Have fun and
Just Fly!