Page 1 of 2
Model 5.00 €
The "Basics" model is a fully functional model for the TARANIS that comes with a user interface that gives your TARANIS the look and feel of a traditional transmitter.
As from now on, it will include the latest firmware version for the Taranis, TaranisPlus and X7(Q7) for OpenTX 2.0, 2.1 and 2.2, including the sound files. For instructions on how to installe, check here.

It has been designed around a aileron / flaps motorised plane, in combination with rudder and elevator. A 1-servo wing setup or 2-servo Y-cable wing setup is supported (ailerons and/or flaps). Throttle Safety is standard set to the SF switch. 
New users of OpenTX can use it out of the box, without further knowledge of OpenTX itself. All functions are defaulted when the activating switch is in the 'up' position.
If your servo linkage is technically correct, and you connected the servos in TAER order, with the Flaps on ch 6, and verified the servo directions, you are ReadyToFly without further setup.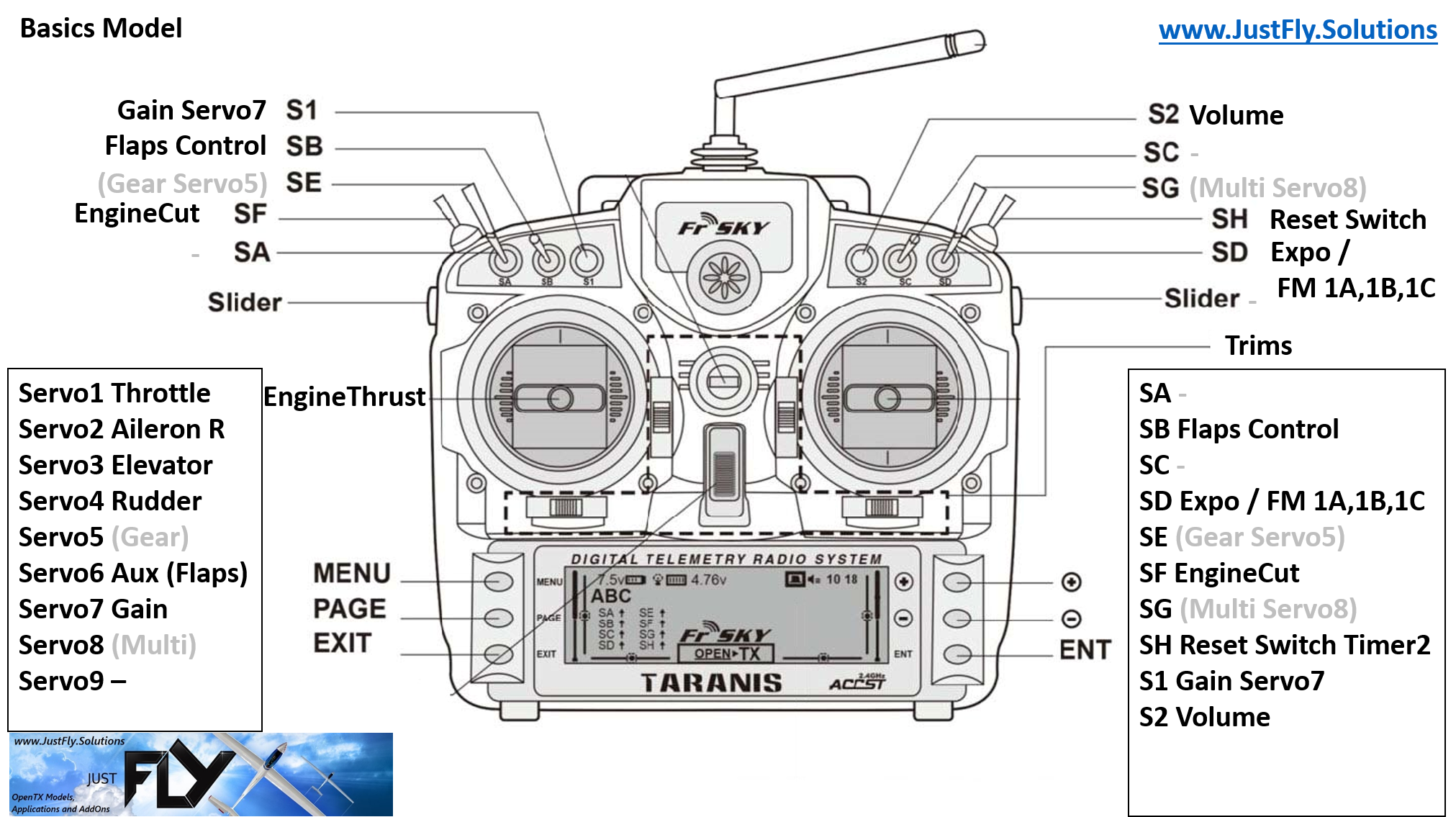 Put all switches in the 'up' position, bind your receiver, check servo directions, have fun and
Just Fly!
The Menu
Make sure the Basics model is loaded.

Start the AppMan by long press "PAGE", and the Basics app will appear in the list of available apps. Select it and press "ENTER".

This is the main Page. pressing "MENU" from one of the detail pages will bring you here again.
ServoTrim

Line 1, limits. Is defaulted to Orange DSMX modules users, where 80% is the maximum allowed for yur Spektrum Receivers,
Line 2, servo selection. Servo Trim is done servo per servo. Select the right servo to set trim settings,
line 3, trim. Will set the neutral position of the servo,
line 4, down. will set the down travel. You should set it to the maximum wanted technical deflections,
line 5, up, will set the up travel.
Scroll some down to get the two extra fields.

line 6, servoDirection. observe the proper direction of the control surfaces, and invers if neccesary,
line 7, ppmCent. Used to rotate the entire servo axles neutral position. The travel in both directions will remain the same.
Engine

line 1, thrust. shows the current thrust % and the input controlling it,
line2, Throttle reverse. This is not the radio wide throttle reverse. it is on a per model basis,
line3, Safety Switch. When set to --- the engine will always be off. The text will change to ARMED! when throttle is active.
Wing

All % functions here are on a per flightmode basis. Default flightmodes, assigned to switch SD:
SD up: Cruise. 100% throws,
SD middle: Float. 100% throws,
SD down: Newbie. 75% throws.
 So by changing the SD switch, you select a flightmode, and then you can alter the values.
line 1, reduction of maximum throw for the aileron function of the flaperons (Dual Rate)
line 2, reduction of the maximum throw of the flaps function of the flaperons (Dual Rate)
The flapsControl is model wide, so not linked to a flightmode.
line 3, flapsControl, the input that you want to use to deploy flaps. When on MAX, flap control is disabled, and flaps are up.
Tail

on a per flightmode basis:
line 1, elevatorThrow (dual rates)
line 2, rudderThrow. fixed, only shown for completeness
line 3, aileron2Yaw (aileron2rudder)
As a model wide setting:
line 4, flaps2Pitch, used to prevent ballooning on full flaps. Adjust Curve 1 if neccesary. Normally, adjusting here is enough.
multiSwitch

The multiSwitch is used for several puposes, and it's position is send to servo output 8 by default.
line 1, pull&hold toggle. If pulled for more then 3 seconds, the toggle will be active. Next time pulled for 3 seconds, the toggle is off again,
line 2, select on which function the vario will be active, toggle, pull, ..,
line 3, select on which function altitude is announced, toggle, pull, launch, ..,
line 4, select multiServo output: multiSwitch position, or toggle position (off = -100%).
flightModes

line 1, selection of mode 1,2,3. Max is default 1,
line 2, selection of mode A,B,C. Max is default A,
line 3, assignment of flight mode to current combination 123 & ABC. Default is 1A, flightmode Cruise,
line 4, Activation of flight mode announcement on change of flightmode,
line 5, assignement of priority switch. This switch will override normal flight mode selection.

When pulled, the priority flight mode is active.
When returned to the middle position (three state switch) or up position (two state switch), another flight mode can be assigned.
When flaps are fully retracted, and the elevator is pushed forward for a moment, this flight mode will be "released", and normal flight modes are active again.
The priority switch function seems complex, but is needed for proper handling of the DLG launch sequence. It can be used for other purposes as well. when put on MAX, it is disabled.
General

line 1, trimSwitch. Used for flaperon setup only. MAX means disabled.
line 2, 

by default there is an expo of 30% on the control stick inputs. By activating this switch, you can choose to change this to low rates (65% expo) or high rates (0 % expo),

Note that this function is assigned to the same switch as the flightmodes 1A,1B,1C. This means that there will be no expo in the flightmode Newbie, where there is only 75% throw. This is as most plane manufacturers recommend to have the dual rate set.

line 3, assignment of the switch to control the GEAR servo output, standard on channel 5,
line 4, sound volume control,
line 5, assignment of input control for the gainServo, defalt to channel 7. This can be used in conjunction with the MultiSwitch or GearSwitch to adjust a flight controller (Eagletree, with gain, Orange integrated with On/Off, ...).
Don't forget to check the Model AddOns BasicsP AddOn and DLG glider model (F3K)