Page 2 of 2
Installation
Installing an App you bought on JustFly is easy. Just unpack the content of the zipfile you received onto your transmitters SD-Card. If you received a (personal) license, it has been sent in a separate email. Just unpack that one as well.
After doing so, your SD-Card should look like this: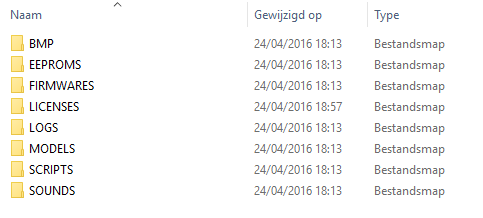 From the home page,

go to the Model Selection Screen (push "MENU" once),

go to an empty slot, long press "ENTER",

select "restore model" and select the model "20-Basics.bin" if you are on OpenTX 2.0, or select the "21-Basics.bin" if you are on OpenTX 2.1. 

Make sure you activate the Basics model by scrolling down

long press ENTER again

and choose SELECT and press "ENTER"
The star before Basics indicates it is the active model. A voice will tell you to have fun and just fly.
Long Press EXIT until you are at the home screen again.

Now long press "PAGE" to start the App Manager. The new Basics app will directly show up in the App Manager:

IF IT  DOESN'T TURN UP, YOU PROBABLY LOADED THE 2.0 MODEL IN OPENTX 2.1. 
just reload the correct version in slot 3 with the aboce procedure, and delete the incorrect model afterwards.
Selecting the Basics App will give you the following menu:

If you are familiar with traditional radio transmitter setup it should be straightforward from here. 
To return to the Home screen of your transmitter, press EXIT several times (OpenTx 2.0) or long press EXIT (OpenTX 2.1).
If your servo linkage is technically correct, you connected the servos in TAER order, and checked the servos directions, you are ReadyToFly without further setup.
Bind your receiver, have fun and
Just Fly!