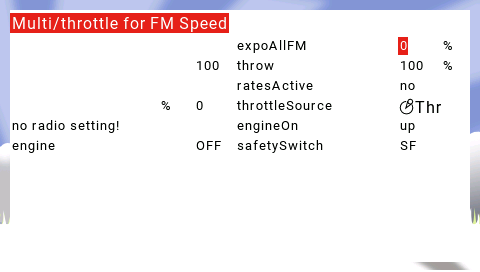 Expo is set for all flightmodes.
>
Rates is set per flightmode or rateSwitch.
If a rateSwitch is set (ratesExpo menu), then you can alter the value for all switch positions. This value is then active for all flightmodes for those switchpositions.
If rates are set per FM, then the rate can be set for the active flightmode, and for each flightmode a seperate value.
>
If Rates are switched off, the current flightmode will have 100% rates.
>
Throttle source can be set to switches or analog inputs.
>
The throttle direction can be set, independent of the throttle analog input reverse setting.
>
The safetySwitch MUST be set to be able to use an engine.
>
To 'ARM' the motor, throttle must be down AND the safety switch must be MOVED into the ARM position FROM the SAFE position.
You cannot re-ARM the motor by having the safety swtch in the ARM position, and putting the throttle to zero.